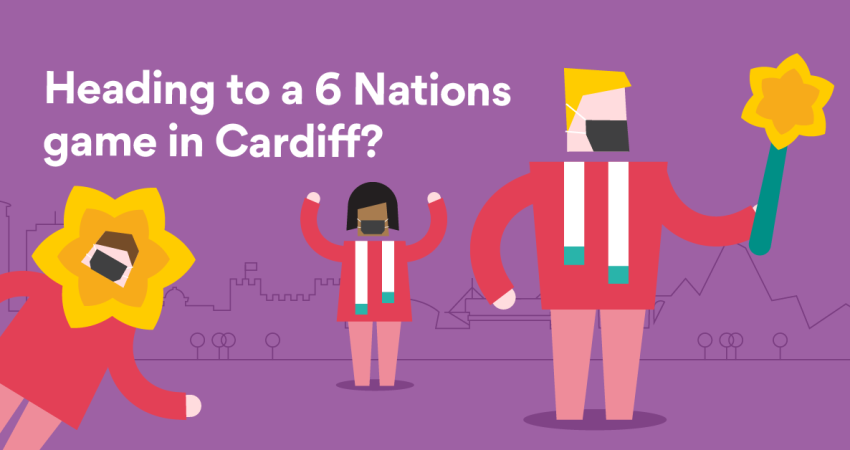 6 Nations 2022: Six tips for travelling safely in and around Cardiff on game days
03 February 2022
---
The 23rd annual 6 Nations is here! Wales, England, Ireland, Scotland, France and Italy will battle it out over 6 weeks of hotly contested matches in a bid to be crowned 2022 champions. The series kicks off on 5th February in Dublin, ending in Paris on 19th March.
With tens of thousands expected to attend the games in Cardiff, public transport services will be busier than usual. We've pulled together a list of our top tips for travelling safely in and around Cardiff on game days, in line with current Covid-19 safety measures.
If you're attending a game, you need to provide a government approved form (Covid Pass) as proof of either double vaccination status or for those not double vaccinated, proof of negative LFT (Lateral Flow Test), taken 48 hours prior to the event. Full guidance is available on the Principality Stadium website.
1. Plan ahead!
There are 3 games taking place at the Principality Stadium, Cardiff, during the 6 Nations:
There will be a full city centre road closure in place for each event to help keep rugby-goers and others joining in the celebrations safe. This means that a bus operators will be running a different to normal service (for example, using different bus stops and diversion routes) and, for crowd safety, there will be a post-match queuing systems in place at Cardiff Central Station.
To make your travels as smooth and as safe as possible, we strongly advise planning your journey in advance. You can do this via our Journey Planner and Timetables page, remembering to check our dedicated Six Nations Disruptions page to find out what alternative bus stops your service/s will be using. We'll continue to update this page as we receive more information from operators.
Important Reminder: Any short-notice changes to timetables we receive from operators will be added to our 'Short Notice Service Updates' disruption.
2. Double check your journey details on the day
Due to the ongoing impact of the driver shortages across the transport industry, some public transport services may change or be cancelled on the day. We will be retweeting any updates from operators on our Twitter page @TravelineCymru from 7am until 8pm. This means you can keep up to date with any service alterations that could not be anticipated in advance.
Whether you're going to the game, watching it at a pub or just making your way around Cardiff, we also advise leaving plenty of time for your public transport journey. There is likely to be heavy congestion in and around Cardiff, as well as busier than usual public transport services.
3. Grab your mask before setting off on your journey
In Wales, you must wear a face covering for the duration of your public transport journey, unless you're exempt. It's the law. This is an important measure to help protect those who are vulnerable to Coronavirus.
You must wear your face covering when:
Getting on and travelling on any public transport (including taxis)
Going into a covered station car park
Going into a station building
Going into covered areas
Using a waiting room or toilets
Children under the age of 11, people with breathing difficulties or people with a physical or mental illness or impairment or disability don't have to wear a face covering. You can view the Welsh Government's full list of face covering exemptions here.
4. Get your contactless payments ready
Passengers are encouraged, wherever possible, to use contactless payment methods. This is to minimise the handling of cash and change.
For bus operators, most will accept contactless card or smart device payments (Apple Pay or Android Pay). Major bus operators in the city centre also offer their own apps, which you can use to purchase your tickets in advance:
If you're travelling on Transport for Wales Rail services, you must buy a ticket before getting on the train. You can do this via the TfW app, at the station (if ticket purchasing facilities are available), or at selected convenience stores.
For non-TfW train journeys, please check the Trainline website for ticket purchasing options.
5. Keep an eye on your personal belongings
When making your way through large crowds on your way to and from the game, it is important to always keep your personal belongings with you. Remember to check the area where you have been stood or sat for your phone, bag, keys and any other personal belongings (including your match tickets!) before leaving a bus or train service.
If you do lose any belongings, your best option is to contact the operator of that bus or train service directly. We have a list of operators and links to their website (with all the contact information you need) on our Useful Links page.
6. Stay aware of your surroundings
It's always important to stay aware of what's happening around you on public transport, particularly on train services which are often bigger and busier (especially on game days!)
If you see anything suspicious or concerning whilst travelling to or from a game, you can discretely send the British Transport Police a message on 61016. Simply let them know what's happening, where you are and they will be on hand to offer advice and help. If it is an emergency, you should call 999.
If you would like to report a non-emergency crime at a later date, you can fill out a report on the British Transport Police website.
If you need any help planning your public transport journeys in advance or on the day of a game, you can ring our Freephone number on 0800 464 00 00 from 7am to 8pm daily. One of our friendly agents will be on hand to help.
We hope you have a fantastic time celebrating the Six Nations and a safe and easy public transport journey. Come on Wales!
All blogs
Share this post