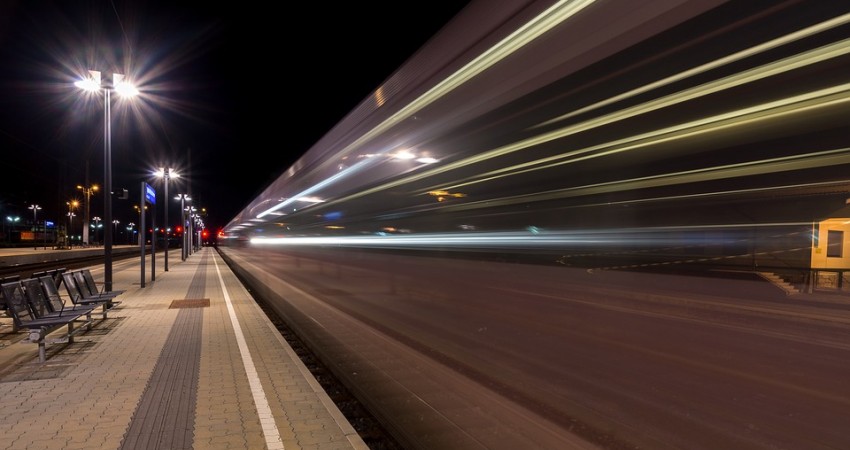 Be Safe Be Seen: Safety Tips when using the Train
07 November 2019
---
Following the success of last year's launch, we have once again partnered with Nation Radio for their 2019 Be Safe Be Seen Campaign. More than 5,000 children were injured on roads across the UK in 2017, with 23% of accidents happening between the hours of 3pm – 5pm. We want to reduce this statistic.
We will be posting a series of blogs on the Traveline Cymru website with tips and advice for keeping your children safe and visible when travelling by bus, train, bike and foot. In this final blog post of the series, discover our top tips to Be Safe and Be Seen when using the train.
1. Plan your journey in advance. Using the train is a great way to explore everything Wales has to offer over the winter months, as well as making those everyday journeys. To make sure your child feels confident and safe when travelling alone, encourage them to plan their journey in advance. They can do this via our Journey Planner tool on the Traveline Cymru website and app. Simply type in your point of departure and destination, filter your results to 'Train only', and discover the quickest route. This will also show the walking route to and from the station (as well as journey times), giving you peace of mind that your child will get home safely.
2. Be aware of your surroundings. Whilst waiting at the train platform, it can be tempting to plug in your headphones or scroll through social media without much awareness of what's going on around you. However, this may leave you vulnerable to potential dangers such as theft or not being aware of platform overcrowding. Even if your child is unwilling to ditch the headphones completely, encourage them to use just the one. This means they can stay vigilant and react if any problems arise. It is also a good idea to stand in well-lit areas of the platform to stay safe and seen, especially if the platform is quiet.
3. Avoid sitting in a carriage alone. Train passengers can often be victims of theft, whether this be personal belongings or larger pieces of luggage. Ask your child to sit in a carriage where there are other passengers, especially during journeys late at night. This means that the other passengers will be aware of their presence (and vice-versa) and makes them less of a target to thieves.
They should also try to keep their luggage with them at all times, either in the foot well of their seat or in the overhead storage racks. Larger pieces of luggage often have to be left in the storage racks at the end of each carriage. Encourage your child to find a seat near the storage racks to keep an eye on their belongings throughout the journey.
4. Stay safe when getting on and off the train. Whether your child is travelling alone, or you are travelling with a small child, it is important that they are aware of how to get on and off the train safely.
Stand behind the yellow line. This should not be crossed until the train has come to a complete stop and other passengers have departed from the carriage. It is there for your safety!
Mind the gap. Some stations have large gaps between the train and the platform edge that are often unavoidable. It is really important that you board the train with care and that young children receive help to do this.
Stay clear of the closing door. Train doors close 30 seconds before departure. Make sure you stand well clear of the door before it closes and that none of your personal belongings are in the way.
5. Know your post-train journey plans. By using our Journey Planner, you can find the quickest route to get you home after leaving the train. If this is by foot (especially late at night), make sure your child knows where the safe places are between the train station and home. This could be a shop, petrol station, or other public places that can be seen on the route map on your Journey Planner.
If they feel unsafe or uncomfortable at any point, enter these premises and ask for help. Alternatively, you could organise to pick up your child from the train station at the time they are expected to arrive. Ask them to wait in a safe place, ideally in a well-lit are of the train station, until you get there.
You can find out more about the Be Safe Be Seen campaign on the Nation Radio website.
You can discover more advice on how to Be Safe and Be Seen when using the bus, cycling and walking on our blog page.

All blogs
Share this post