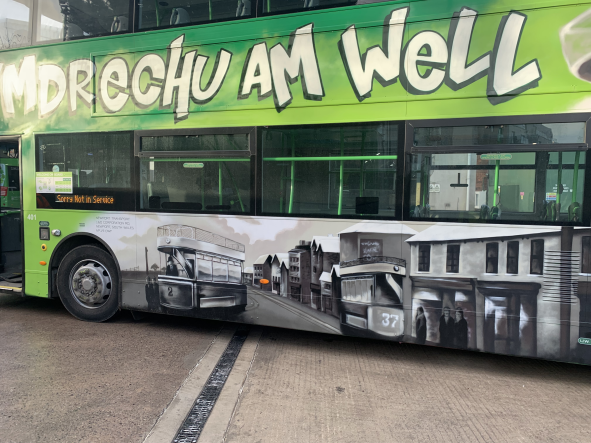 Street Art Style Bus to Honour our city
20 January 2023
---
Renowned Welsh Street artist, Tee2Sugars, has painted a bus from the Newport Bus fleet to honour progressive figures and moments in Newport's history, Lady Rhondda, and the Chartist movement. Launched in late December, the bus can now be spotted around town over the next few months.
Newport Transport invited Welsh street artist Tee2Sugars to spray paint one of the double-decker buses in Newport Transport's fleet to celebrate local art and history.
Scott Pearson, Managing Director of Newport Transport, explained:
"Newport Bus is an integral part of the community in Newport, and we wanted to promote the good of its community. The bus is "Our Bus", meaning everyone's bus service."
Tee2Sugars said:
"This project was to celebrate the people of Newport – what sets Newport apart from every other city in the UK is the unrivalled passion of people that live here. It has been brilliant to work with Newport Bus in creating this piece of art.
You can view a video of the painting in progress from Tee on YouTube.
"It was great to tie Lady Rhondda and the Chartist Movement into one piece… on a bus! I love that this piece of artwork isn't just on a wall somewhere, but it's moving in and around the city for all to see, giving the artwork back to the people! Thank you, Newport Bus, for this brilliant opportunity!"
One side of the bus has been inspired by Margaret Haig Thomas, known as Lady Rhondda. An activist, businesswoman and suffragette she was key in progressing women's rights in the early twentieth century. One of the founders and editors of the Time and Tide iconic feminist magazine Lady Rhondda is the reason women of today can sit in the House of Lords. A statue for Lady Rhondda is one of the Monumental Welsh Women projects.
The other side of the bus is dedicated to the Chartist Movement. powerfully illustrated by a key photo of the torchlight march from the modern Newport Rising Festival. The Chartist was the first mass movement driven by the working classes and was the first step in giving the working class a valuable political experience in campaigning, organizing publicity, and holding meetings.  A nationally significant collection of items related to the Chartist movement can be seen at the Newport Museum and Art Gallery (closed for renovation until July 2023). 
Scott Pearson, Managing Director of Newport Transport, continued:
"With public transport becoming increasingly important with the people's quest to fight climate change by reducing emissions - we chose to depict two strong movements that represent the advances to our society made in Newport."
"Our service has been a steadfast part of our community for over a century, always committed to serving its community, that is why we are proud of this piece of work and hope that the people of Newport will enjoy seeing it travelling on our streets in the weeks and months to come."
Information Source: Newport Bus
All news
Share this post