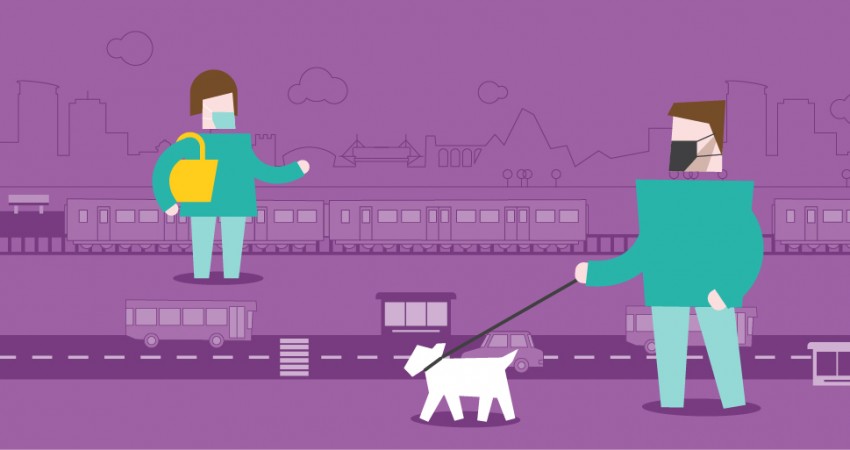 Traveline Cymru continues to provide latest travel information as local lockdowns enforced
24 September 2020
---
As further pandemic restrictions take effect this month and service timetables continue to change, we're reminding customers to access our four dedicated coronavirus information pages before travelling.
These pages, which provide up-to-date safety advice, lockdown and travel information, and answer vital questions, are available through www.traveline.cymru.
These include pages include our Local Lockdown page, which keeps travellers up to date on all the latest local lockdowns and any related travel restrictions and safety measures.
Our Coronavirus Transport Service Updates page provides details of all the changes to transport services across Wales and features the latest travel information.
While bus passengers can access all the latest safety information from the Welsh Government and individual operators through the Bus Operator Coronavirus Travel Guidance page. This features information on social distancing measures, contactless payments, face coverings, and cleaning regimes.
Questions surrounding public transport, active travel advice, and many other queries will be answered via the Transport for Wales Coronavirus Travel Guidance page.
Jo Foxall, managing director of Traveline Cymru, said: "With local lockdowns now being enforced across Wales, it is more important than ever that those who rely on public transport access our service to get all the latest information.
"We will be regularly updating all the latest travel information and news, to ensure all passengers are fully informed of any changes to routes, services, or restrictions to travel.
"With services changing rapidly at late notice, it's vital that people planning a journey access these pages to ensure they have all the most up-to-date information ahead of time.
"We would like to assure all those who use our service that, just as before, our dedicated team is here to support travellers right across Wales.
"Our teams are working tirelessly to answer all your queries and bring you all the latest information as we continue to face local restrictions.
"Our dedicated coronavirus pages will feature all the most up-to-date information regarding bus, rail, and coach travel to ensure you can travel where you need to go, safely.
"Once again, we'd like to reiterate that we are here for you, and should you need any travel advice or support please get in touch."
For media queries please contact Gemma Gwilym at jamjar on 01446 771265 or email gemma@jamjar.agency
All news
Share this post