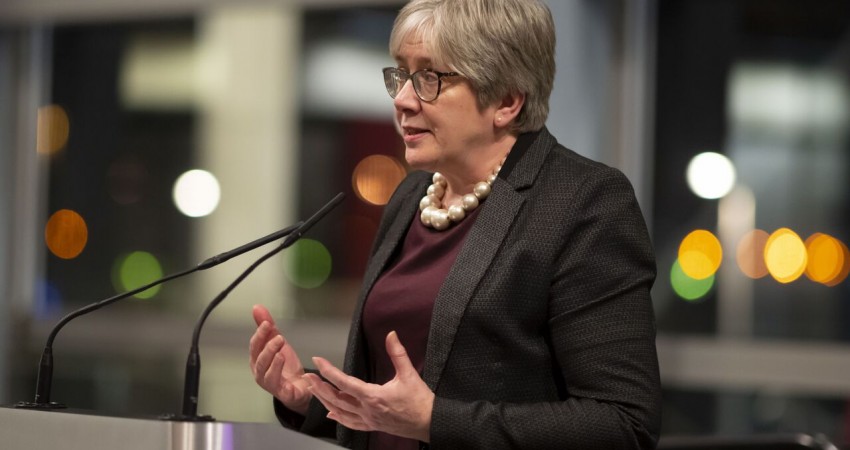 Traveline Cymru board member shortlisted for Womenspire Award
30 April 2020
---
A Traveline Cymru board member has been recognised for her 'remarkable accomplishments' by gender equality charity Chwarae Teg.
Dr Victoria Winckler has been shortlisted for a Womenspire Award in the board member category.
The Womenspire Awards, run by Chwarae Teg, aim to celebrate the achievements of Welsh women in every aspect of life.
As women continue to be under-represented at board level across Wales, Victoria is a finalist alongside three others who have been recognised as making a huge impact on their organisations.
Victoria, who is also director of the Bevan Foundation, has been a board member of Traveline Cymru for the last 6 years during which time she has used her extensive knowledge of the impact of social inequalities to advise on improving the Traveline Cymru service with inclusivity at its core.
Managing Director of Traveline Cymru, Jo Foxall, said: "Victoria's nomination is hugely deserving having dedicated her career to creating a better standard of living for some of society's most vulnerable. 
"She is a passionate advocate for equality for those using public transport, fighting to make services more inclusive for people facing poverty and economic deprivation. She has played an instrumental role in the company set up, in developing our services and in supporting our team. We couldn't be prouder of her achievements and grateful for her support."
Victoria said: "I'm delighted to be shortlisted for a Womenspire Award. I work amongst so many dedicated, bright and intelligent women at Traveline Cymru and the Bevan Foundation and it's great that the achievements of women across Wales are being recognised.
"My work allows me to tackle issues throughout Wales such as poverty, the labour market, regeneration and equality issues and seeing the difference made to people's lives is incredible.
"These awards encapsulate everything that is admirable and inspirational about women working across Wales, so I am thrilled to have been recognised as part of this.
"I'd like to wish all my fellow nominees 'good luck' and I look forward to attending the award ceremony later this year."
Traveline Cymru provides a 'one-stop-shop' for travel information in Wales. The not-for-profit company is based on a partnership between the Welsh Government, public transport operators in Wales and Welsh local authorities. It provides route and timetable information for all bus, coach and rail services in the country via a bilingual website www.traveline.cymru, its Freephone telephone service (0800 464 00 00) and a suite of services for mobile phone users, including a bilingual app.   
For Media enquiries please contact Elle Holley on 01446 771265 or elle@jamjar.agency
All news
Share this post