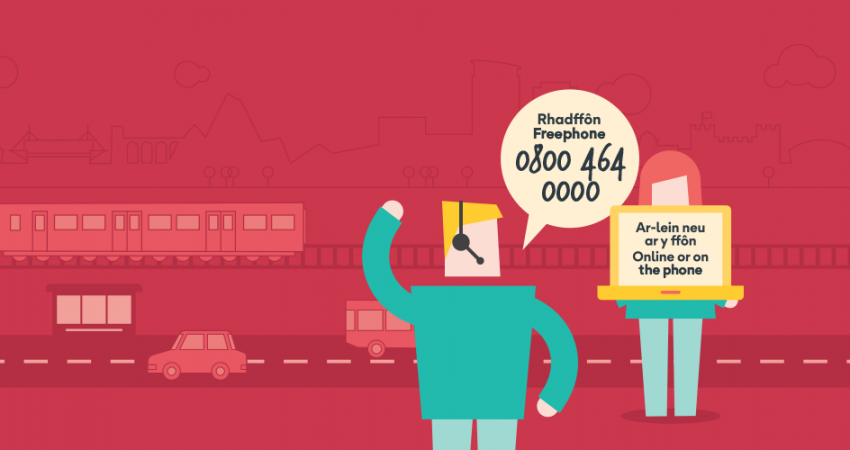 Traveline Cymru provides information for any essential travel over the Easter Weekend
09 April 2020
---
Vital health workers and people making essential journeys across Wales this Easter weekend can access the latest public transport information thanks to Traveline Cymru's dedicated Coronavirus page.
Many operators will be running a different to normal service this weekend and Traveline Cymru is regularly updating train and bus information via its page, as operators continue to alter their timetables.
The Welsh Government public transport information service is supporting key workers, and those making essential journeys, following the Government's ban on all non-essential travel in a bid to stem the spread of the virus.
Through its Coronavirus page, which has been viewed 43,000 times, those making essential journeys over Easter and the coming weeks can access the latest service updates from bus and rail operators as the situation continues to evolve.
Jo Foxall, managing director at Traveline Cymru, said: "The Coronavirus outbreak is rapidly evolving and is having an unprecedented impact across all areas of life worldwide.
"The transport industry is no different and Easter Weekend will see a different level of service to what passengers are used to.
"Vital NHS staff and key workers still need access to reliable modes of transport over the weekend to enable them to continue to provide an invaluable service at this challenging time.
"Equally, people across Wales may also need to use bus or rail services to visit vulnerable relatives or collect household essentials.
"As such, our dedicated Coronavirus page is there to support all those making these essential journeys and will keep them updated on rapidly changing timetables and route alterations over the Easter weekend and the coming weeks.
"We'd like to offer our heartfelt thanks to all those frontline workers who continue to travel to work daily to support people across the country, we'll continue providing updates to help get you there."
For all the latest journey information, and to check any travel changes, please visit https://www.traveline.cymru/coronavirus/
For media queries please contact Elle Holley at jamjar on 01446 771265 or email elle@jamjar.agency
All news
Share this post