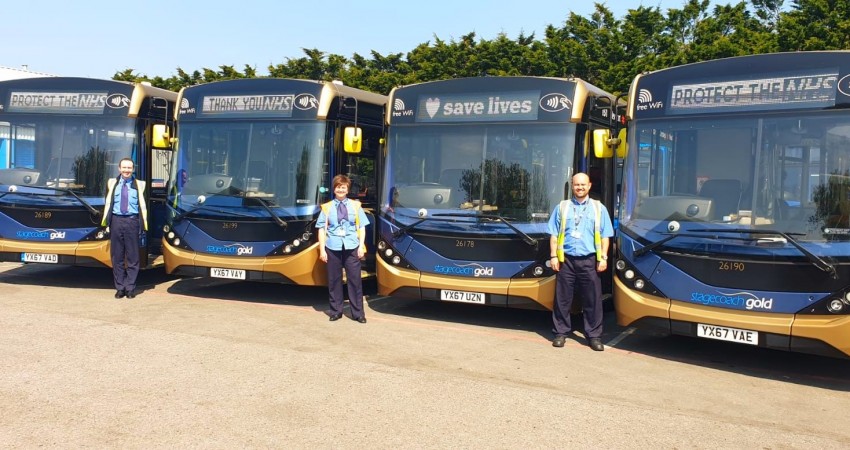 Support and initiatives from the Welsh transport industry in response to the Coronavirus outbreak
27 March 2020
---
In these uncertain times, a lot of us are feeling worried about what is happening in the world, the safety of our loved ones and the impact of COVID-19 on our daily lives in the weeks and months ahead.
Now more than ever, it's important to highlight some of the brilliant and heart-warming good news stories happening across the Welsh transport industry in response to COVID-19. We'll be continually adding to this list over the coming weeks, so be sure to check back for new initiatives that might be of help to you or your loved ones.
Remember to visit our Coronavirus Information page for all the latest updates from operators before making your essential journeys.
Free Travel for NHS Staff
NHS staff will receive free travel on buses throughout Wales as part new funding from the Welsh Government.
Operators are also committed to having no bus at more than 50% of its maximum capacity and maintaining key routes and timetables for key workers and essential medical and food needs.
The below operators have confirmed that free travel for NHS staff will be introduced with immediate effect:
In line with Welsh Governments' announcement, Arriva Buses Wales will be offering free bus travel to all NHS staff. Please show your valid NHS ID badge to the driver upon boarding.
From Thursday 26th March, until further notice, to support those NHS workers at the frontline in the fight against the Coronavirus pandemic, NHS staff will be able to travel for free on all Cardiff Bus services. When you board the bus, just show your NHS staff ID to the driver, and travel for free.
Edwards Coaches will give any NHS staff tickets on its route, between the Pontypridd area to Cardiff including via the Royal Glamorgan Hospital, for free.
First Cymru are now offering FREE travel on our buses for NHS workers. Just show your ID to the driver when boarding.
Goodsir Coaches is offering free travel for NHS Staff and Care Support Workers.
From Monday 30th March onwards, NHS staff may travel free of charge on all Gwynfor Coaches bus services by showing a Valid NHS ID Card.
NHS staff will receive free travel across all Llew Jones Coaches services from Monday 30th March. In order to travel for free simply present your NHS Wales staff pass to the driver when boarding the vehicle.
All NHS staff can travel for free on Lloyds Coaches services on production of an NHS ID card.
NHS staff can travel for free on Mid Wales Travel services by showing their NHS ID when boarding the bus.
NHS Staff can travel for free on Morris Travel services by showing their ID when boarding a service.
Newport Bus is providing free bus transport on its network of bus services for the duration of the COVID-19 pandemic to NHS, Ambulance, Fire and Police Services personnel. Simply show your staff ID badge to the driver. 
They are also offering free alternative transportation to NHS staff and emergency services workers in situations where the current timetable does not meet their needs. This includes:
Pick up of residents from Cwmbran and Newport (from their closest bus stop or safe place)
Drop off in Newport only (Royal Gwent Hospital, St Woolos, St Cadocs, Police stations, Fire Station)
Monday to Friday mini bus service with multiple pick up and drop off points expected
To arrange, email: name, phone number, pick up point, drop off point and shift times to nhs-support@newporttransport.co.uk
For more information, please visit the Newport Bus website.
NAT are offering free travel to NHS staff. To qualify, a valid NHS employee card must be presented to the driver when boarding the bus with photo ID.
From Friday 27th March, until further notice, Phil Anslow and Sons Coaches are offering free travel on all our buses for NHS staff. Just show your NHS staff ID to the driver and travel for free.
Stagecoach in South Wales will also be offering free travel to NHS workers on all its services with the exclusions of: England, Megabus and Traws Connect services 40A/B/C and 43/X43.
Transport for Wales is allowing NHS workers to travel for free to and from work until 30th April on production of their NHS ID.
NHS Staff are now allowed to travel for free on the TrawsCymru® network (T1, T1C, T2, T3, T4, T5, T6, T11, T12, X43, 43, 460 services) all day seven days per week – no restrictions. Simply show your NHS staff identity badge to the driver of the bus when you board the service.
Age Cymru's 'Check-in-and-Chat' Service for the Over 70's
Age Cymru is offering a check-in-and-chat telephone service for the over 70s in Wales who live alone.
It's hoped that the initiative will help provide some reassurances to older people, answer basic queries and link people to local services and support during the Coronavirus outbreak. Public transport often provides a lifeline away from isolation and in to the local community for many concessionary pass holders across Wales.
Anyone over 70 in Wales can register free of charge, to receive a regular telephone call from Age Cymru in either English or Welsh. All you have to do is call Age Cymru Advice on 08000 223 444 or send them an email with the following information:
Name
Address
Telephone number
Please let us know if you're over 70
Do you require a call in Welsh or English
An emergency contact - who do you want us to contact in an emergency
Password – an Age Cymru staff member will say your chosen password at the start of every call. This is to give you peace of mind so you know you're speaking to an Age Cymru staff member.
Please visit the Age Cymru website for further information and additional resources.
Free Parking at St David's Shopping Centre
St David's Shopping Centre in Cardiff are offering free parking to NHS workers.
To claim free parking, press the assistance button on the pay-on-foot machine and/or exit barrier. There is a 13-hour maximum stay at one time.
For more information, please visit the St David's Shopping Centre website.
Free Parking in Swansea City Centre Council and NCP Car Parks (except Kingsway)
Car parking in Swansea city centre council and NCP car parks (except Kingsway) will be FREE. The Local Authorities St David's and Quadrant car parks closed as of 24/3/2020, as will Park and Ride services. These changes are being made in the interests of key workers and those who have to visit the city centre to do their shopping. This will help prevent people from congregating on buses or at the St David's and Quadrant sites.
First Minister Launches "Looking Out for Each Other' Campaign
The First Minister has launched a campaign aimed at supporting communities and neighbourhoods across Wales through the pandemic.
A special web page has been created on the Welsh Government website with advice on self-isolating, what you can do to help those who are vulnerable and supporting your wider community during this difficult time.
Please visit the Welsh Government website for more information.
Bwcabus coordinating delivery of letters and drawings to care homes from local children
Local bus service Bwcabus have contacted various care homes within the Bwcabus area. The care home managers they have spoken to would be delighted for residents to receive a letter or drawing from children who are currently at home.
Stagecoach in South Wales displays messages of support for NHS staff on buses
Stagecoach in South Wales has been inspired by the thousands of people clapping for the NHS every Thursday at 8pm. The company has decided to commend the hard work that the frontline staff and key workers are doing all over the UK by showcasing a number of messages on the front of their buses.
The 'not in service' message that displays on bus screens will now be replaced with the following:
Save lives
Stay at home
Only travel if your journey is essential
Thank you key workers
Thank you NHS
NAT Group share positive messages of support from passengers
In recognition of NAT Group's continued services and safety measures, several passengers have sent messages of thanks and appreciation to the company directly and on social media. The messages include gratitude for providing vital services for key workers and essential travellers in addition to celebrating the drivers and staff.
A selection of the messages received have been turned into posters which the company intends to display at their depot and on-board buses in the near future. You can see this poster here.
Community Transport Association: The community transport stars gearing up to support the elderly and vulnerable during Coronavirus lockdown
When Beverley Mather realised the Dial-A-Ride service she manages could no longer operate due to the coronavirus lockdown, she made an immediate decision.
Over the past few weeks, Beverley has worked tirelessly to help anybody that needs it in her local community. From safely delivering vital food supplies to offering dog walking and picking up prescriptions, she and her team of volunteers have continued to provide a lifeline to people with nowhere else to turn. 
You can read the full article from the Community Transport Association about Beverly's amazing work here.
Transport for Wales reveals rainbow tribute to key workers on its services
Transport for Wales has revealed the first batch of trains that will have rainbow stickers as a tribute to all those fellow key workers helping in the fight against Covid19.
The rainbow has been used as a symbol of thanks to all keyworkers that are assisting the country at this difficult time and will now be seen on the side of TfW trains.
All news
Share this post