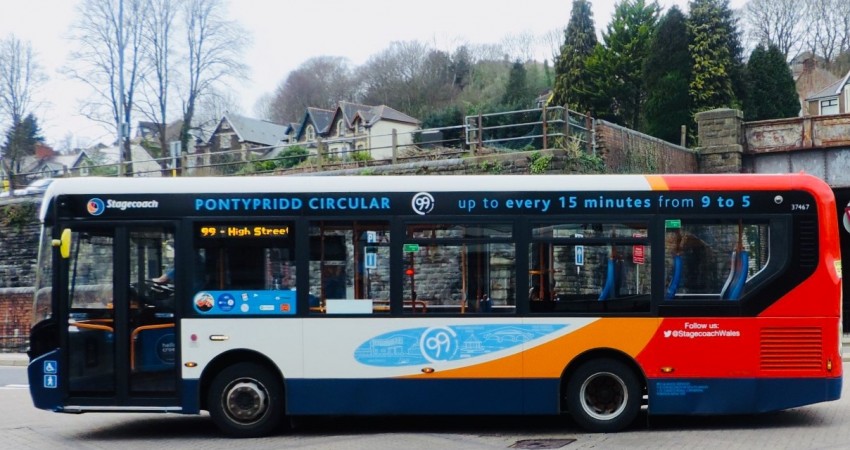 Government urged to "maximise power of bus" as new report shows Stagecoach supports £43m a year in value to Welsh economy
20 February 2020
---
Independent analysis published by the Centre for Economics and Business Research
UK's biggest bus and coach operator supports 1 in every 1,000 jobs across Britain
Detailed regional breakdown of Stagecoach's economic and social impact revealed for first time
Company helps cuts congestion, reduce accidents, boost physical activity, and lower emissions
Buses can "deliver safer, healthier and more prosperous places for people to live"
New electric buses for Caerphilly this year
Welsh authorities are being urged to "maximise the power of the bus" to benefit communities as new research published today shows that Stagecoach South Wales supports over £40m a year in value to the economy in Wales.
Independent research carried out by the Centre for Economics and Business Research (Cebr) shows that Stagecoach's aggregate contribution across the country is £1.63billion a year in Gross Value Added (GVA)1, with £43m of the overall contribution in Wales.  
Stagecoach, which was founded in 1980, runs services across South Wales covering Cardiff, Blackwood, Caerphilly, Bargoed, Pontypridd, Cwmbran, Brecon, Brynmawr and Merthyr Tydfil. It carries over 23 million passengers every year in South Wales,  employing around 880 people and runs 340 buses in the region.
It is Britain's biggest bus and coach operator and one of the country's largest private sector employers, providing direct employment for 24,000 in total people across the UK and supporting a further 10,000 jobs. In total, Stagecoach supports one in every 1,000 jobs in the UK.
The new report 'How we support Britain's economy and communities', also demonstrates the wider benefits and financial savings that Stagecoach transport services deliver by reducing congestion, making the nation more active, protecting the environment and supporting safer communities.
Stagecoach South Wales Managing Director Nigel Winter said: "We're proud to have helped to keep passengers in Wales connected for the past 40 years.  This new report shows the huge positive impact of our transport services to the economy and our communities right across the country.
"As regions across the country face up to the challenges of congested roads, declining air quality, ill-health and pressure on our high streets, it is vital that local authorities maximise the power of the bus to deliver safer, healthier and more prosperous places for people to live."
Cebr analysis shows people using Stagecoach buses rather than cars helps avoid millions of pounds of wasted resources every year, with the savings able to be invested in better public services:
Safer communities: £44.2million saved in costs associated with road traffic accidents such as loss of earnings, medical costs, emergency services and damage to vehicles, which could fund more than 750 extra salaried GPs.
Healthier communities: £13.3million saved in healthcare costs, which is the equivalent to the costs of over 83,000 people being seen in A&E
Cleaner communities: £12.4million saved in emissions costs, which could power 9,800 homes for a year
More mobile communities: £343 million in potential congestion-related savings from a reduction of 1.22 billion miles of traffic. Each double decker bus can take more than 70 cars off the road.
Stagecoach South Wales continues to deliver direct significant benefits to Britain's economy and communities, paying £21million a year in wages and employee benefits.
Cristian Niculescu-Marcu, Director of Analysis and Head of Microeconomics at Cebr, said: "Stagecoach makes a substantial economic and social contribution to the UK economy, supporting one in every 1,000 jobs and underpinning regional communities across the country.
"As well as its direct impact, Stagecoach's transport services help reduce congestion, lower physical inactivity, and cut road traffic accidents. The company also plays a major role in cutting greenhouse gas emissions at a time when there is greater focus than ever before on measures to address the climate emergency."
From spring 2020, Stagecoach will deliver the first vehicles as part of a £13m investment in what is one of the biggest orders of new electric buses in Europe. A total of nearly 50 new e-buses are being introduced in Greater Manchester and Caerphilly. By the end of 2020, Stagecoach will have more electric vehicles than any other major UK bus operator. Carbon emissions from Stagecoach businesses have been reduced by 14% over the past five years as a result of a package of measures introduced as part of the company's sustainability strategy.
Last month, Stagecoach launched a new look for its buses as part of a wider commitment to make using public transport easier. Stagecoach has delivered the biggest roll-out of contactless technology by any bus operator in Britain to simplify ticketing. It has also launched a new bus app, featuring a new online travel-planning tool that provides customers with real-time tracking of their bus service on an interactive map.
A full copy of the report 'How we support Britain's economy and communities' is available at https://www.stagecoachbus.com/
All news
Share this post