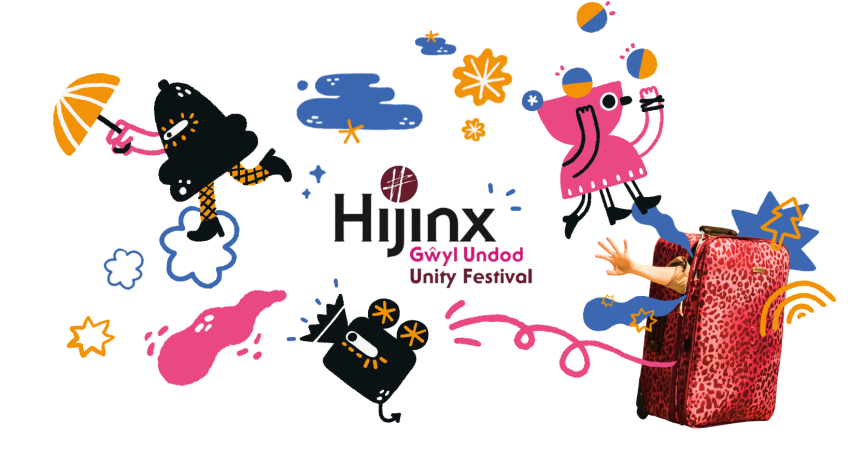 What's on at the Hijinx's Unity Festival
16 June 2022
---
Hijinx Unity Festival will be returning this June and July in locations across Wales. Today the festival is one of Europe's largest inclusive arts festivals and the only one of its kind in Wales. Returning for the first time since the Covid-19 pandemic the 10th edition of the event will be better than ever.
This year there will be 12 days of performances of theatre, dance, comedy, film, street theatre pop-ups and a new hybrid production, bringing together some of the best inclusive and disability arts and theatre from around the world to showcase here in Wales.
A Film Festival,  will be featured for the first time, showcasing recent inclusive film work from Wales, the UK, Europe and beyond with digital performances available to stream on Hijinx Mobile (built in partnership with Escena Mobile and the British Council).
The festival will take place across 3 locations in Wales: Cardiff, Bangor and Llanelli.
Have a look below for some of the festival's highlights:
Cardiff | 16th – 26th June
*Download Cardiff Unity Festival 2022 Programme Here*
Performances in Cardiff will be spread across 5 venues. Weston Studio, Wales Millennium Centre will be the home of all ticketed events including performances like 'touch me' by Hijinx featuring tanzbar_bremen,  'El festin de los cuerpos' by Danza Mobile and more. For full list of performances visit the Hijinx website here.
The pioneering Film Festival will be held in Chapter Arts Centre introducing 40+ features, shorts, premieres, panel discussions and other events. You can find a schedule and tickets for all the film events here.
At Porter's Cardiff , guests will get to enjoy Unity Festival's first Comedy Night with line-up featuring Chiron Barron, Juliana Heng, Dan Mitchell, Richard Newnham and Sha Rita.
At The Hayes & St David's Hall guests can enjoy free Street Theatre performances by Wales's Hijinx, Avant Cymru, Cheryl Beer, international groups like Compagnie de l'Oiseau-Mouche and more.
Bangor | 1st – 2nd July
*Download Bangor Unity Festival 2022 Programme Here*
A 'mini' Unity Festival programme is set in Bangor with performances inside and outside of Pontio. With a mixture of international performances, Hijinx Theatre productions and performances from North Academy and North Young People's Theatre.
Find more about all scheduled performances in Bangor here.
Llanelli | 1st – 2nd July
*Download Llanelli Unity Festival 2022 Programme Here*
Similarly, a 'mini' Unity Festival programme will be set in Llanelli hosting a mixture of international performances, Hijinx Theatre productions and performances from both  West & Mid Academies, inside and outside of Ffrwnes.
Find more about all the performances in Llanelli here.
Want help traveling to the festival?
Please see below some helpful links to get you started in planning your journey to the event. Using public transport services in the area can be a great way to make your way there and save the worry of bringing your car.
Industrial Action is taking place on 21st, 23rd and 25th of June. Please check our 'Industrial Action' information page for an overview and latest updates from services before planning your journey.
Public Transport
To make your journey by public transport, please use our Journey Planner to find the most convenient route, along with times and services that are running.
If you'd like to find a bus timetable, head over to our Timetables page. Here, you can search for a specific bus route or your location to view timetables of services in the area. You will also have the option to print the timetable to take with you on your trip.
Walk & Cycle
You can also use our journey planner to find walking and cycling routes to get to your event. If you live close by, walking can be a great way to explore the scenery and soak up the atmosphere before the event!
You can find out more information on our Cycling and Walking page.
We also offer a Freephone telephone service. One of our friendly advisors will be on hand to answer any of your public transport information queries and to help you plan your journey. Give us a call on 0800 464 00 00 for free!
All blogs
Share this post